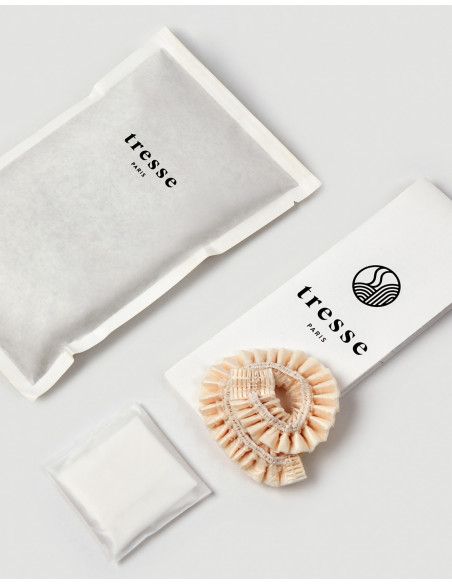 6 PLANTS, NOTHING ELSE - 100% CERTIFIED ORGANIC - NO AMMONIA, NO PEROXIDE, NO PPD - NO METALLIC SALTS - NO HEAVY METALS - NO ANIMAL TESTING - BIODEGRADABLE FORMULA - VEGAN - MADE IN FRANCE
Ingredients : 6 plants, nothing else
Plants that visibly improve your hair health and texture. We have carefully selected them to create an effective hair treatment.



Tresse natural hair dye will blend with your hair's natural color. It will color and coat the hair shaft without damaging it. Organic and herbal nutrients deeply nourish your hair and make it shine. We recommend choosing the shade closest to your natural color, or one shade darker. Since Tresse is chemical free, it will not lighten your hair.
What is the difference between natural hair color and chemical hair color?
Plant pigments react in contact with water and wrap hair cuticles on the hair shaft. Contrary to conventional coloring processes, plant dyes don't damage or weaken hair, they wrap around them. Hair is coated and protected.
Can I switch from chemical to vegetable hair coloring?
Bien sûr, si la coloration précédente était une coloration d'oxydation. En cas de doute, envoyez-nous un message et une photo à hello@tresseparis.com


Does organic hair color cover white hair ?
Yes, TRESSE plant-based coloring covers white hair in a natural way, without a "helmet" effect.
How long does the color last?
TRESSE plant-based coloring is tenacious. It permanently colors the hair (which will gradually fade over time). How long the color lasts depends on your hair. The pigments attach like a fine stain covering hair cuticles. If you want to make the plant-based color more vibrant, increase applications to once a week or up to once a month. With this technique, pigments will surround the hair shaft in successive layers. The more you color your hair, the more intense and long lasting the color will be.
If you have more than 40% gray hair, the overall color result may be less intense.
Customers who bought this product also bought: